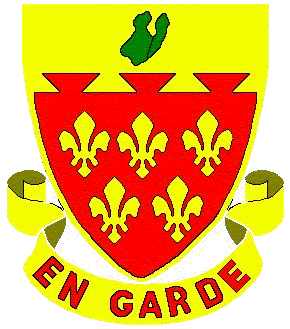 2nd Battalion
77th Field Artillery Regiment
Lineage and History
Lineage: The 19th Cavalry was converted and designated as the 77th Field Artillery Regiment on 1 November 1917.The unit was assigned to the 4th Division on 19 November, 1917, it arrived in France in June 1918 with the 4th Division.
It participated in heavy combat in five campaigns, including the Aisne-Marne campaign and the Battle of Meuse Argonne. After occupation duty it returned home in 1919 and was inactivated at Camp Lewis, Washington in 1921. Reactivated in 1935 at Fort DA in Russell, Wyoming as a 155mm howitzer regiment.
The 77th Field Artillery Regiment was relieved from assignment to 4th Division in 1939 and assigned to the 18th Field Artillery Brigade, VII Corps on 27 January 1942. The 77th participated in the amphibious assault on Licata, Sicily 9 July 1943. Then saw combat on the Italian mainland in Naples, Anzio, and Rome.
On 24 February, 1944, the regiment was broken up with 2nd Battalion becoming the 631st FA Battalion. The 631st FA participated in the amphibious assault on Southern France and saw further action in the Rhineland, Ardennes-Alsace and Central European campaigns. Coming Soon: 88 Page Unofficial History of the 631st during WWII
Designated as 77th Field Artillery Battalion on 15 May, 1945, it was inactivated 4 January, 1946, at Camp Kilmer, NJ. Battery B, 77th FA Bn reactivated on 1 August, 1957, as HHB, 2d Missile Battalion, 77th Artillery (105mm howitzer) at Fort Hood, Texas.
The unit moved to Fort Lewis on 6 May, 1959 and rejoined the 4th Infantry Division.
The battalion arrived in Vietnam on 9 October, 1966, and was initially based at Dau Tieng as the direct support battalion for the 3rd Brigade, 4th Infantry Division.
Reassigned to the 25th Infantry Division on 1 August, 1967, it moved to Cu Chi in 1969. The 2nd Battalion, 77th Artillery participated in eleven Vietnam campaigns receiving a Presidential Unit Citation for the battle of Suoi Tre and three awards of the Republic of Vietnam Cross of Gallantry with Palm.
Click here for Spring 1969 Operations Report
The battalion departed Vietnam on 7 December, 1970. It was reassigned to the 4th Infantry Division and inactivated on 15 December, 1970, at Fort Lewis.
Redesignated 1 September 1971 as the 2d Battalion, 77th Field Artillery.
Relieved 17 June 1986 from assignment to the 4th Infantry Division and activated in Germany from the assets of the 1st Battalion, 30th Artillery in Augsburg and assigned to the 17th Field Artillery Brigade of the VII Corps Artillery.
Inactivated 1 March 1988 in Germany for a short period and re-activated 16 May 1988 in Germany.
LTC Richard Durden was the last commander, from 1989 until he brought the colors home to to the United States in 1991. The weapons system in use from 1986 to inactivation in 1991 was 8-inch (M110A2, 203mm, Self Propelled).
They had a General Support - Reinforcing (GSR) mission under the German Defense Pact (GDP) in effect at the time. In addition to providing general support fires for VII Corps, they reinforced the 1st Armored Division Artillery. They had an on-order, out-of-sector mission to support the 3rd German Corps. They were in the planning stages of converting to Multiple Launch Rocket System (MLRS) and moving to Neu Ulm in late 1990 when the unit received inactivation orders. During Operation Desert Storm, more than 250 soldiers (officers and enlisted) from 2nd Battalion, 77th Field Artillery Regiment served with just about all the artillery battalions and brigades in General Tommie Franks' VII Corps, including 210th Field Artillery Brigade, 1st and 3rd Infantry Division Artillery, 1st and 3d Air Defense Artillery (ADA) Regiments, 2nd Armored Cavalry Regiment's howitzer batteries, and the 42d Field Artillery Brigade.
Inactivated 1 March 1991 in Germany after receiving notice they were to have been re-flagged as an MLRS Battalion in New Ulm Germany.
As part of the Army's transformation to a modular fighting force, the battalion was reactivated on December 16, 2004 as a Self-Propelled 155mm Howitzer Battalion, to provide fires for the newly established 4th Brigade Combat Team of the 4th Infantry Division at Ft. Hood, TX.
View short news clip on Reactivation of Unit as part of 4th Infantry Division.
Redesignated 1 October 2005 as the 2d Battalion, 77th Field Artillery Regiment.
On January 14th, 2006, in support of operation Iraqi freedom, the 4th Brigade, 4th Infantry Division, which included 2nd Battalion 77th Field Artillery Regiment, took control of Forward Operating Base Prosperity, located in Baghdad, from 4th Brigade, 3rd Infantry Division. The battalion operated within central and southern Baghdad with their mission including training Iraqi Security Forces and maintaining security within the central and southern regions of the Iraqi capital.
Upon returning to Ft. Hood, TX from Operation Iraqi Freedom, the Battalion was deactivated in late 2007 and was reactivated on April 9, 2008, at Ft. Carson, Colorado, where the unit currently provides direct support to the 4th Brigade Combat Team, 4th Infantry Division. On order, will deploy from Fort Carson, Colorado and provide direct field artillery fires and execute stability operations.